Sometimes its nice to step away from digital work and spend some time working on something more tangible.

A few weeks ago I treated my self to a resin Clarke cast from Burgerstrings. Chris's incredible clay carvings are beautiful creations. While I really liked his more alien looking masks I fell in love with Clarke's Retro aesthetic. I've painted a couple of Star Wars helmets in the past but wanted to see what I could do with something a bit different and pulling on historical references for inspiration.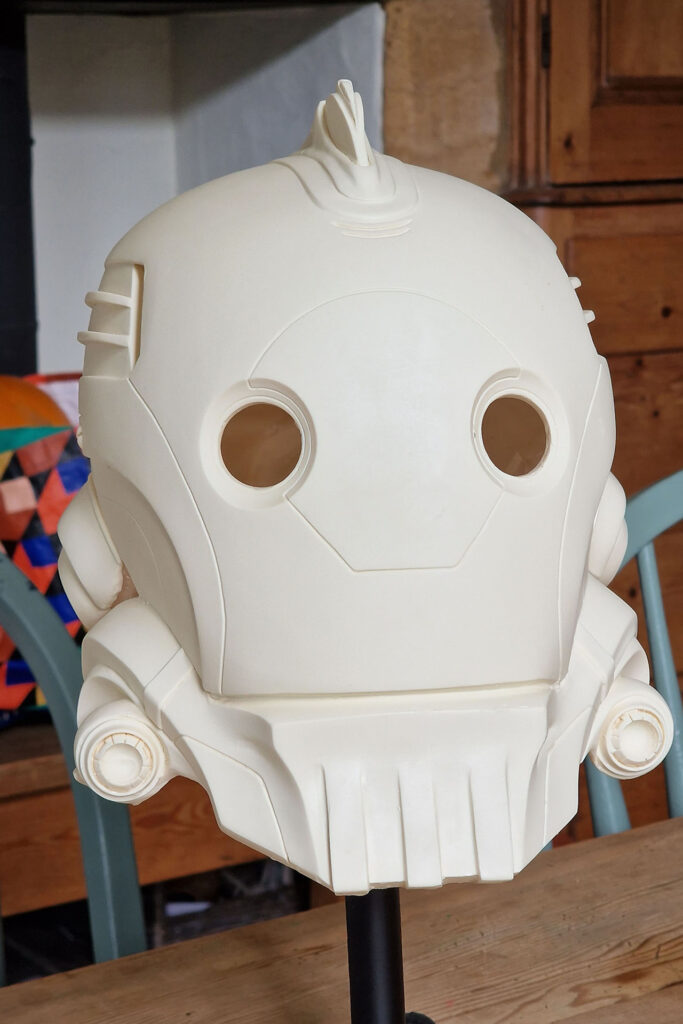 Taking cue from the subtle Rockabilly hints in his design (I saw the quiff and sideburns) I pictured a character working in a 40's American diner where he'd been drafted in as a service bot, once taking orders 24/7 before rebelling and leaving his life of servitude behind. With that in mind, I gathered up some colours and textures from these striking venues and set about creating a weathered rebellious old Rockabilly Burger Boy.

After failing to get my airbrush working and being disgracefully impatient I opted for spray cans. I coated him in gloss black then lightly dusted with a chrome paint. While I failed to achieve the reflective nature of chrome, I knew I was going to weather the reflections out of him before covering most of it up so it wasn't a huge concern this time.


I'd decided I wanted to light his eyes up but also make it a wearable helmet, and was directed towards EL wire. While researching that I found EL panels that could be shaped with scissors and even have holes put through. As soon as I created these and inserted them I knew they were going to work really well, but I also felt he worked so well 'nude' I was really worried I was going to do irreparable damage as I was pretty out of my depth from here on in.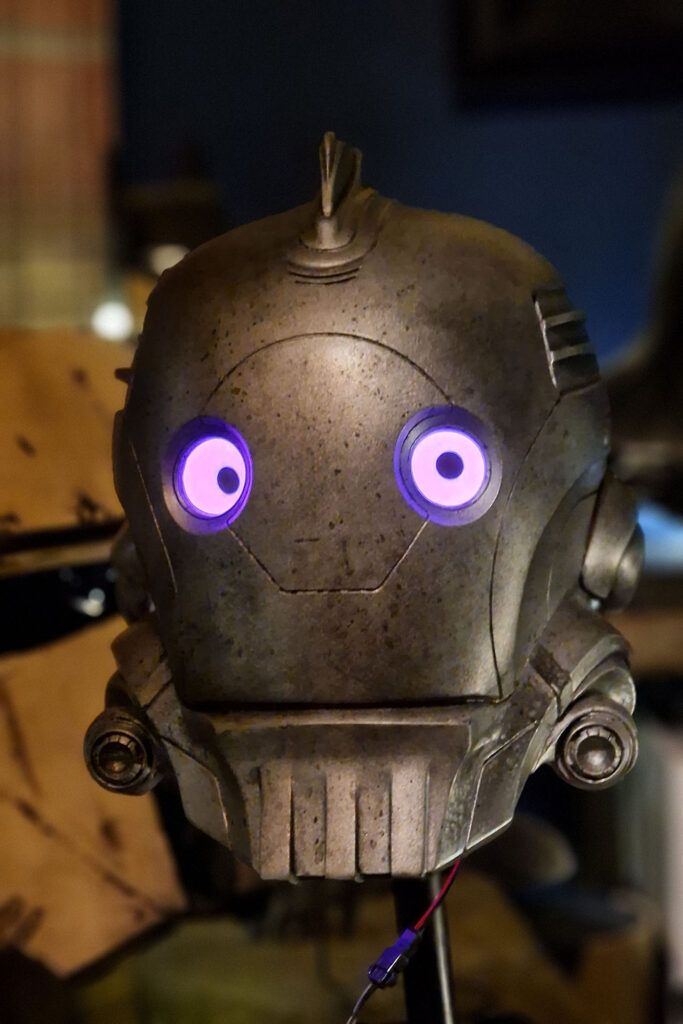 Removing the electrics I coted with semi gloss Clear Cote then began a mix of masking tape and masking fluid on the areas where I wanted to retain the base metal.
I then proceeded to spray each of the three colours in turn, sealing each with Clear Cote as I went and then masking off before adding the next. Honestly, the deeper I went the more I was convinced I was destroying this poor robot. (I'll definitely use a lighter tack and different colour tape next time).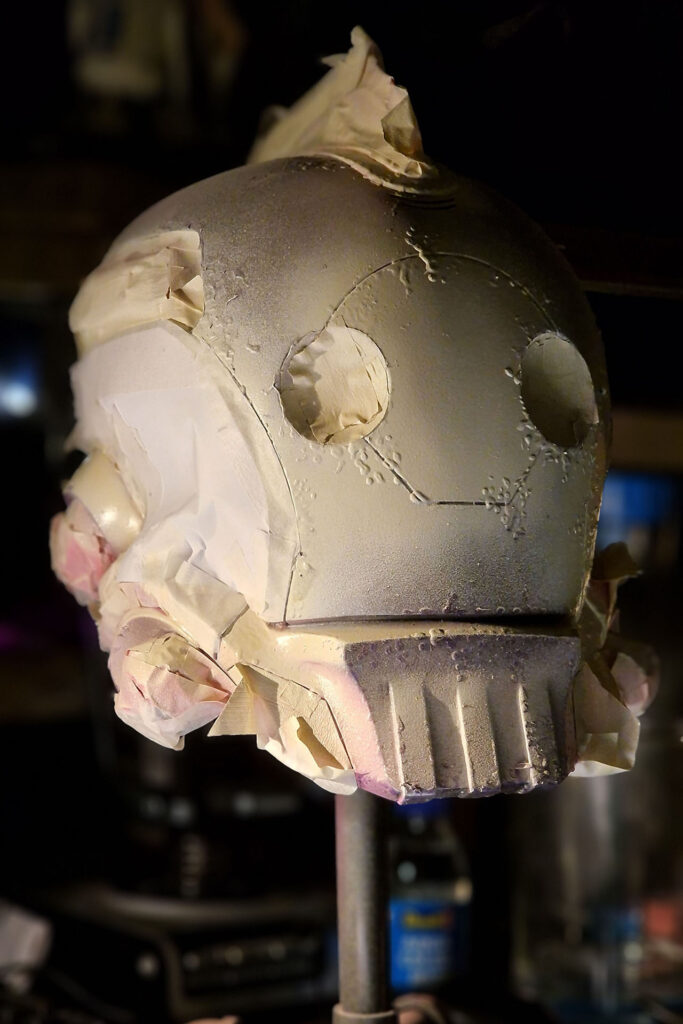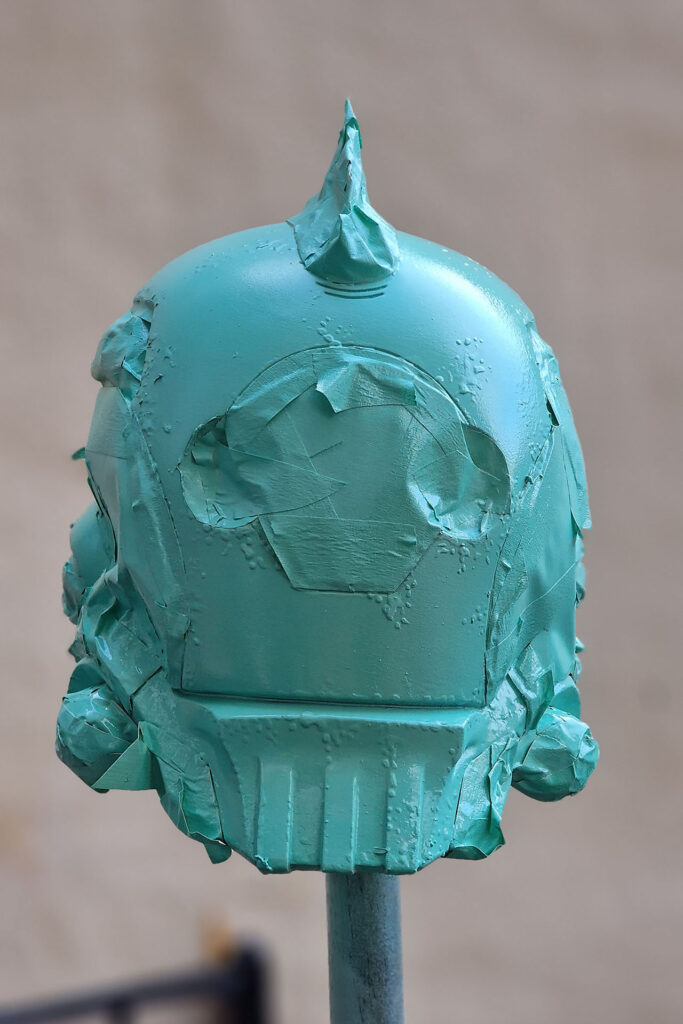 Finally I was done and removed the tape almost without losing any of the silver base. It had worked. Phew! I then went to work on the masking fluid, peeling it away (soo satisfying) to create the chipped and damaged paint effect. I possibly went a little far with the masking fluid but its really fun to work with and hard to reign it in without being able to see the finished effect.
Next step was to add his rebellious 'tattoo's'. Ideally I would have weathered the metal first, however I was concerned the weathering powder would bleed into the paint pens I was using for the lettering so opted for the graffiti first. I created his 'Burger Boy' branding and a pinup girl (popular with advertisers of the era I was using as inspiration) stickers (had I had a functioning airbrush I might have opted to stencil these on, but it was going to be too hard with the clumsy nature of the spray cans).

While researching his glowing eyes I'd realised I could use EL wire as piping to highlight his features and tie him closer to his diner roots as they were often doused in neon lights. After adding the piping I weathered him up with a mixture of black wash and weathering powder, streaking him with oil and rust giving him an aged and abandoned look.
With that done the last step was to add the lenses and Glowing eyes. I decided to add adhesive window tint over the EL panels of his eyes in order to reduce the visibility of the panels when his lights were off. While this shifted the colour a touch too far away from the vibrant pink I wanted, it paid off by making him look really lifeless when he was switched off.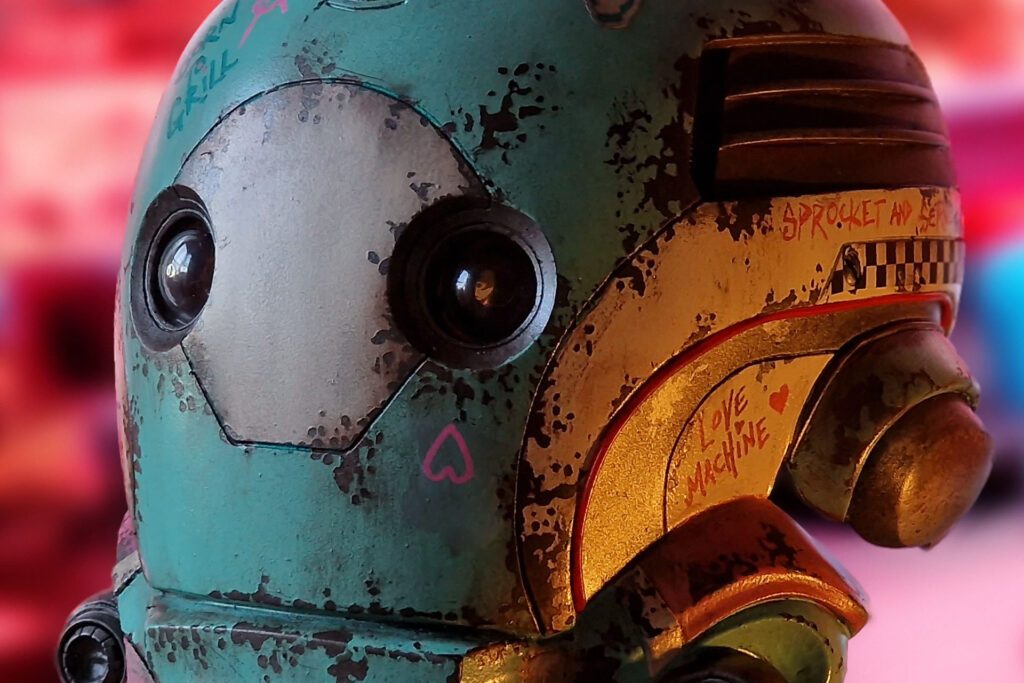 Finished. May I present Billy: Burger Bot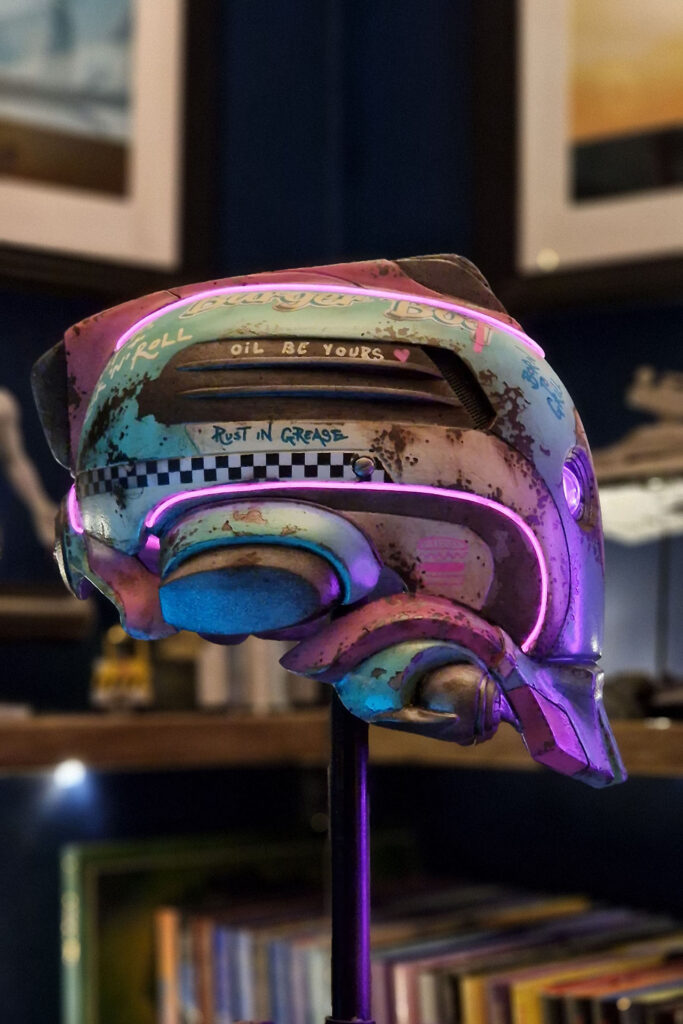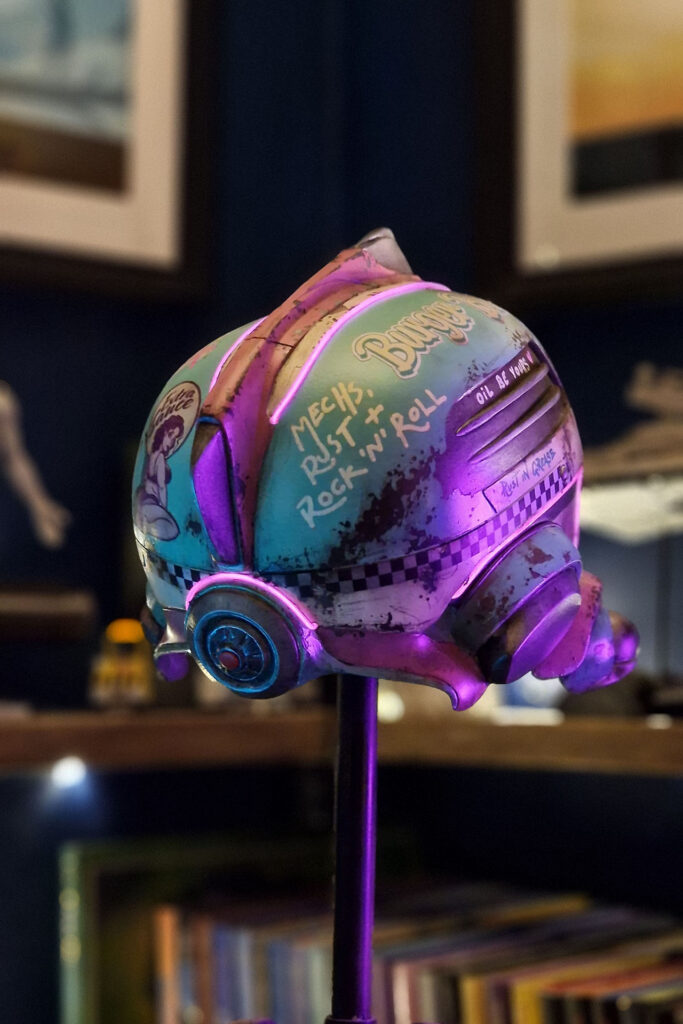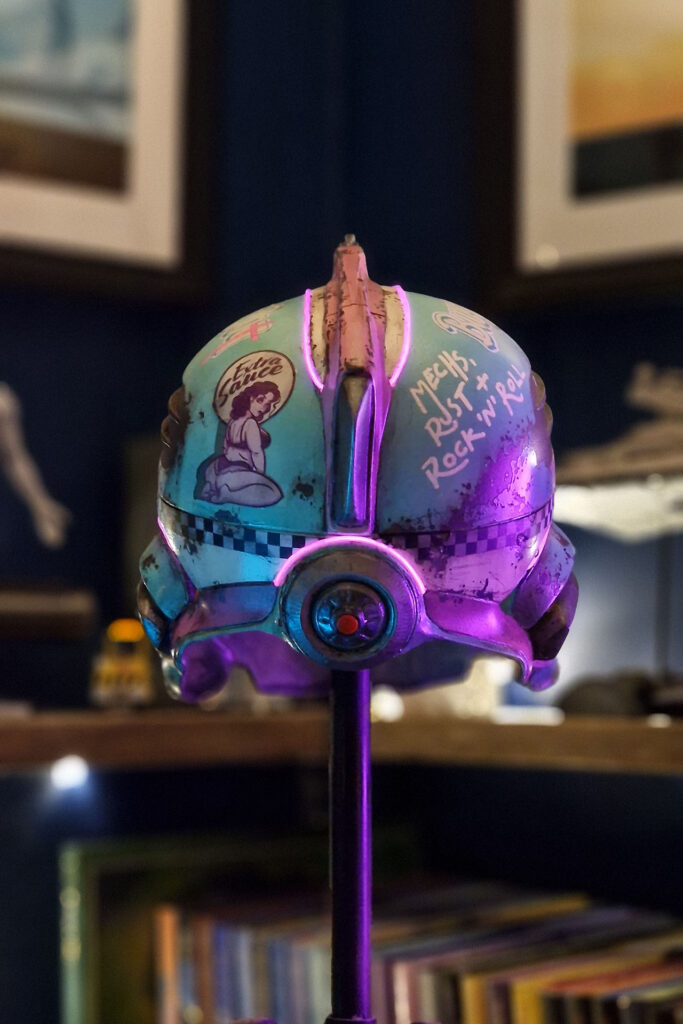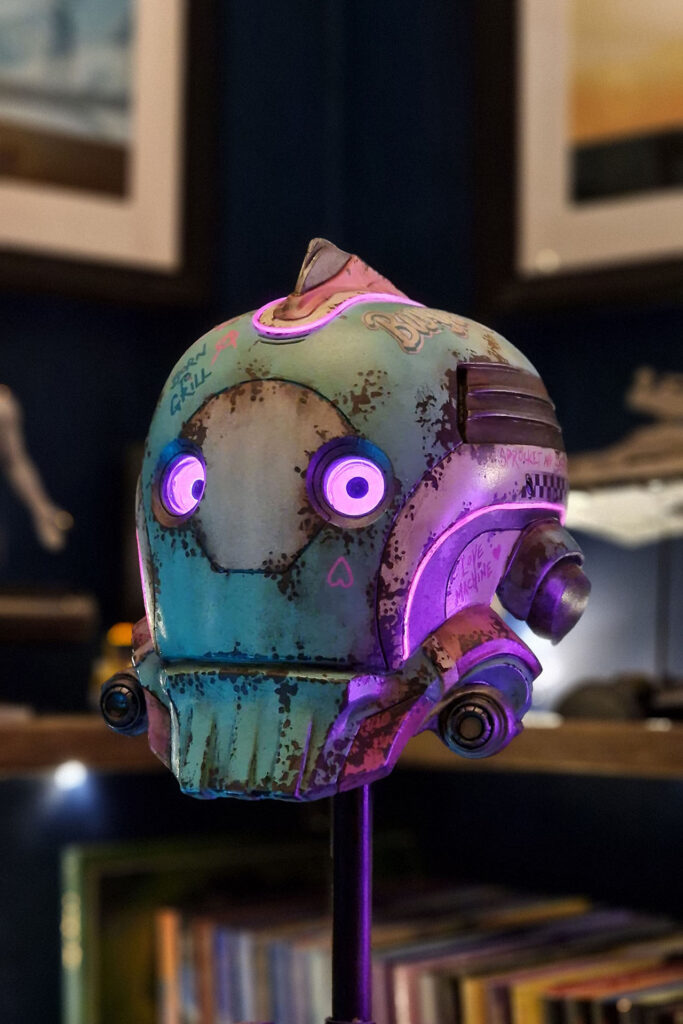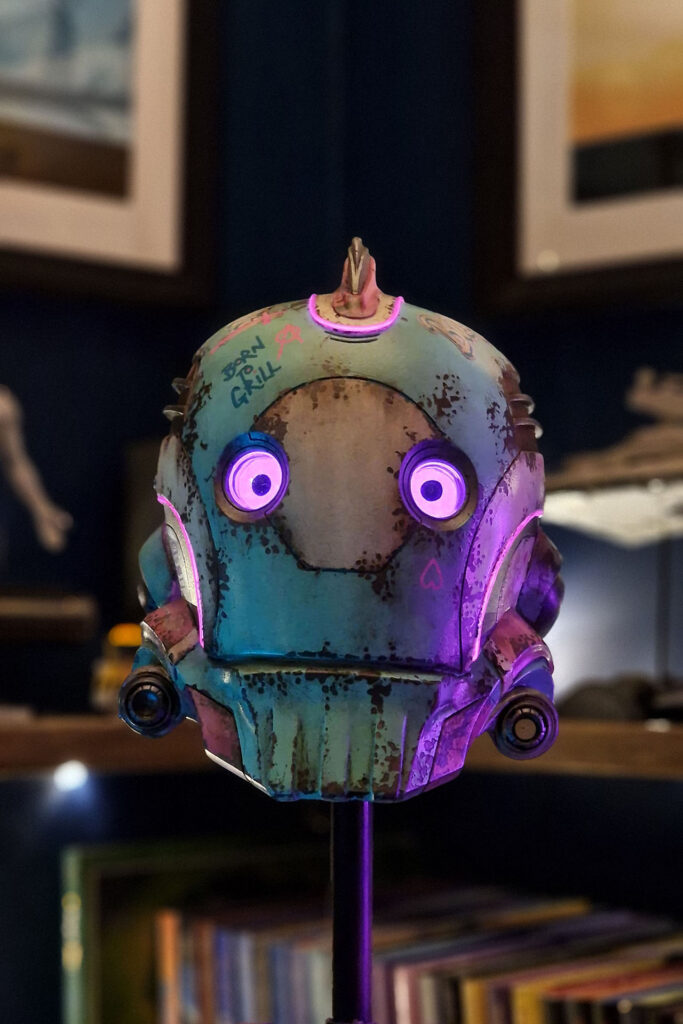 Its been a really fun few weeks working on this project and I've learned a lot. There are definitely thing's I would improve on next time, however I could not be more pleased with how he turned out. Ive got other designs I'd like to try but for now he's staying as Billy, and maybe I'll look at acquiring another Clarke and press ahead with something very different.

this was my initial concept I worked up while waiting for Clarke to arrive. Didn't get too far away, right?

If you're interested in where to source your own Clarke from, check out Chris 'Burgerstrings' Hamburgers work, they're genuinely wonderful sculptures and its a pleasure to have a copy of one living in my office.